RFID 125 KHz Mid Range Reader EM 4100 RS232
RFID 125 KHz Mid Range Reader EM 4100 RS232
Please take confidence to choose us as your partner to work with.
ID far distance reader ( 125kHz Long-Range Card Reader ) introduced international leading technology, it has new of products processing production technology, full independent intellectual property, power small, and sensitivity high, and read card distance far, high performance, low price, anti-interference, stability sexual strong, main should for intelligent car park, and access channel management, and access control control, industry, work frequency for standard 125kHz , using EM format non-contact RF ID card.
This card reader is used 125kHz frequency, full independent intellectual property design, high performance, support EM-ID card, General EM card can read distance 500 mm above, if using Division I provides far distance thick card, maximum induction distance can over 1100 mm (test standard: in relative interference smaller of environment and using recommended linear regulator power, and Division I recommended of far distance thick card test), also its full series increased has automatically tuned and digital filtering, these performance effective increased has induction distance and reduce has miscellaneous hearing oscillation and interference. Its data outputs formats Wiegand ( Wiegand ) W26 , and Wiegand ( Wiegand ) W34 , standardRS485 , non-standard RS485 format V2 or V4 and standard RS232-A or b , and user-defined interface. In addition, it is characteristic of anti-jamming software system, enables two card readers at very close time, can still maintain the original working state, does not significantly shorten the distance. Card reader used in accordance with UL certified environmentally friendly epoxy resins seal, interference with harsh environment can be reduced to a minimum, and maximize compliance with environmental requirements.
Specification:
1 . Operating frequency for the standard 125KHz ;
2 . RF card: EM -compliant ID cards;
3 . Complete interface: Wiegand 26 Wiegand 34 , and RS232 and the RS485 , and SYRIS,PORIS ;
RS232 data formats: 9600 , n , 8 , 1 )
4 . Response rate: less than 0.2s ;
5 . Time interval : < 0.5 seconds;
5 . Power specifications: +DC 12~15V
(Recommend the use of linear 12~15VDC and rated current is not less than 1 a linear power supply);
6 . Operating current : 70mA ;
7 . Sensing distance: up to 100CM ! (Depending on the smart card chip effect);
8 . Operating temperature: -25 --+75 ;
9 . Operating humidity : 10-90% ;
10, Built-in antenna:;
11 , Communication distance : 100 m;
12 , Mode of delivery : real-time;
13Product features: small power consumption, high sensitivity, card reading distance, high-performance, low price, strong anti-interference, reliability
14 Shell material : PVC and plastic sprayed -> internal black resin filling (effective waterproofing)
15 Size, size: D101 : long 230mm , width 230mm , high 35mm
16Application: intelligent car parks, factory, hospital, Bank, library, access management, access statistics also include railway zhadao, vehicle management;
Package:

1 x Mid-range Reader with selected interface
1 x Thick Long Range Card as sample
5 x 0.8mm Normal Thin Card
Other Products Information for Reference:
Model: YC4100R232
Shipping Weight: 2.00Kg
More photos of this item: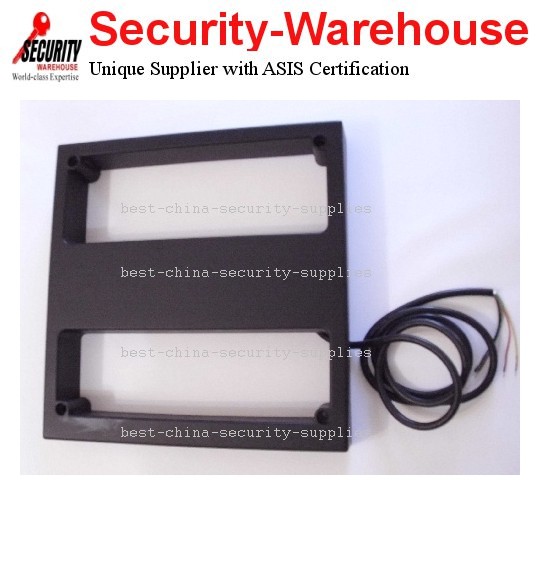 *** Welcome visit our officlal website www.security-warehouse.com for most up-to-date product information, manual and software download, knowledge sharing and industrial news. SECURITY-WAREHOUSE.COM is committed to provide professionalism to maximize our clients purchase satisfaction. ***
More Information

| | |
| --- | --- |
| SKU | TB125MID232 |